The Bible and the Church teach that marriage is sacred and a union between a man and a woman. Ephesians 5:25 says:
"For husbands, this means love your wives, just as Christ loved the church. He gave up his life for her." Genesis 2:24: "Therefore a man shall leave his father and his mother and hold fast to his wife, and they shall become one flesh." … He who loves his wife loves himself."
Despite this Biblical teaching, people with different cultural orientations prefer to marry their bride and groom according to their personal taste and cultural preference. The following are among the weirdest love stories and marriages ever told:
1. A Lady who Fell in Love with a Wall and Married it
"Eija-Ritta was only 7 when she saw the Berlin Wall for the first time on television and she felt head-over-heels when she saw the wall. Eija developed a fetish for inanimate objects and married the concrete structure in 1979. Her surname also means Berlin Wall in German and when the structure was brought down in 1989 she was in tears and said," What they did was awful. They mutilated my husband."
"In an interview in The Telegraph she admitted that she felt some attraction for The Great Wall of China, but in 2008 her affection was beginning to shift towards a nearby garden fence" (Campobasso, 2018).
Eija-Ritta was later diagnosed with a condition called Objectum-Sexuality. Though she remained virgin as a human, she insists she has a full, loving relationship with the wall for having married the structure for more than 29 years now" (Giri).
2. A Man who Wedded a Video Game Character
"In 2009 a Japanese otaku (a rabid fan of Japanese manga, anime, and video games) found the love of his life in a handheld DS game. The man, known only by his gamer tag 'SAL9000' later went on to arrange an extravagant wedding ceremony with his pixelated wife-to-be, Nene Anegasaki from the Japanese dating simulation game Love Plus. Following their honeymoon in Guam, SAL9000 admitted that he was somewhat nervous about introducing Nene to his family. Though SAL9000 may be the first to publicly announce his love for a video game character, he's not the only one as others have also found their relationships with dating simulators as becoming increasingly real and serious" (Campobasso).
3. A Man who Married and Kissed His Dead Girlfriend
"Chadil Deffy and Sarinya Kamsook had plans to get married soon after Deffy completed his studies. But his life was devastated after he learned the news of Sarinya's death in an accident even before the two finalized a date to tie the knot. But death could not beat his love. Deffy married his deceased girlfriend in a combination funeral and wedding ceremony where he placed a ring on Sarinya's hand, his girlfriend of 10 years and kissed her in a ceremony in Thailand's Surin province" (Giri).
4. A Woman Who Married Her Own Self
The "39-year old Liu Ye reportedly chose to marry a life-size photograph of himself, wearing a red bridal gown, in the village square in Guanzhou, China at a ceremony in front of bewildered wedding guests and onlookers in 2007. Ye said that what led him to his decision to marry himself was a general "dissatisfaction with reality" and being "a little bit narcissistic". Despite the bride being a photograph of the groom dressed in drag, the wedding is said to have otherwise followed standard Chinese customs and traditions" (Campobasso, 2018).
5. A Man who Married a Pineapple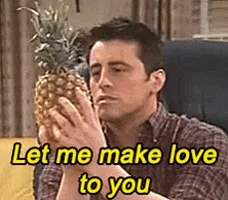 "Around 44 years ago Ulli Hopper, also known as the German popstar 'Ramma Damma' traveled to Gretna Green, a village on the Scottish border, in a Jaguar covered in AstroTurf. While he was there he claims to have taken his love for plants to the next level by proposing to a pineapple that he had bought from a fruit vendor for around £8.
Hopper told Metro Magazine that he named the pineapple 'Tippi' and that the two were married to each other by a craftsman wearing a kilt before traveling back home to Munich. According to Hopper it was a "fun away wedding".
Despite the unconventional relationship between a human and tropical fruit, the two lovers engaged in wholesome activities, like going to the cinemas. Hopper said that Tippi particularly enjoyed movies featuring earthquakes and when she got scared she sat in Hopper's lap. They also enjoyed going to restaurants where Tippi the Pineapple enjoyed a glass of water over dinner" (Campobasso, 2018).
6. A Woman Who Married a Cobra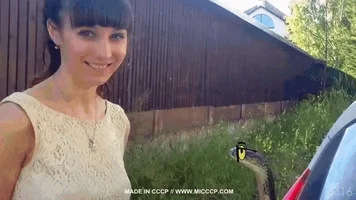 in India, a 30-year old woman fell in love with and married a cobra in a traditional Hindu wedding in 2006 before 2,000 guests. According to the bride's mother, the woman had previously been very sick and was only cured after offering milk to the snake.
GIF Credits: Giphy.com
References
Campobasso, P. (7 March 2018). The World's Most Bizarre Relationships and Love Stories (with Non-Humans). Retrieved from https://pairedlife.com/misc/The-Worlds-Strangest-Relationships-and-Love-Stories-with-Non-Humans.
Giri, G. (n.d.). "10 Crazy Real Life Love Stories To Warm Your Heart". Lifehack. Retrieved from https://www.lifehack.org/355978/10-crazy-real-life-love-stories-warm-your-heart.
Wales, G. (21 April 2011). "30 Weirdest Love Stories". Gamesradar. Retrieved from https://www.gamesradar.com/30-weirdest-love-stories/.
Thank you for reading this post. Subscribe or follow this blog for more updates.